Trojan Records have just made a big announcement that they are to release a deluxe 5 disc box set featuring 123 tracks across five themed CDs that showcase the hits, artists, producers and labels, as well as an entire disc of rare and unreleased gems.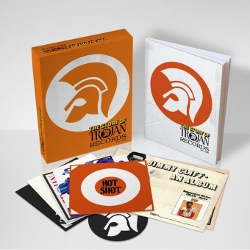 Not content with that they are also giving away with it a 50 page book that tells the story of this remarkable label's history in fascinating detail from its launch in the summer of '68, right up to the present day, with revealing contributions from many of the company's key personnel plus a foreword from Rhoda Dakar (the Bodysnatchers/the Special AKA). The set is further embellished with original photographs, rare memorabilia and other relevant ephemera including four reproduction double-sided postcards of original rare Trojan flyers and promotional material from the sixties and seventies plus a Trojan window sticker.
To coincide with this historic release they have also announced that they will be re-launching Trojan's classic fan club. Originally established in the 1970s as a means for the company to interact directly with its most ardent fans, the Trojan Appreciation Society offered exclusive product and involved fans in the label's activities and to carry on this tradition anyone who buys the box set and registers it with the newly re-launched Trojan Appreciation Society will receive an exclusive 12 track bonus digital album.
Both the album and the fan club go live on the 19th August and with the box set reasonably priced at £29.99 this is sure to be a must for any fan. For more information visit the Trojan website.