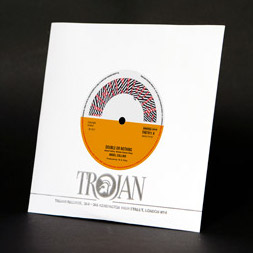 To coincide with their soon to be released new 5CD box set 'The Story Of Trojan Records' the company are bringing out their latest limited edition 7" vinyl featuring two songs taken from it.
The songs both ride on one of the biggest selling Reggae records of all time, Double Barrel which went all the way to the top of the national charts in the UK in March 1971 and featured two of the island's most gifted performers, keyboard maestro Ansel Collins and the immensely versatile singer Dave Barker.
The first of these cuts is a revisit from Ansel Collins who created this organ driven instrumental Double Or Nothing soon after its original release. The second take is from Robert 'Dandy' Thompson who utilised the track on a couple of sides, including this DJ cut that highlighted his toasting skills Double Barrel Man.
Both of these cuts have been lying dormant in the Trojan vaults for 40 years and will finally see issue on the classic Techniques imprint, but with just a limited run of 500 copies.