In the midst of very popular peers such as Tarrus Riley, Queen Ifrica and others rising to prominence over the last few years, it has become somewhat easy to forget that, just a few short years ago, in that very same spot was yet another group of very powerful up and comers. This lot included the likes of Fantan Mojah,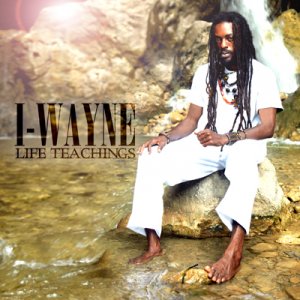 Warrior King and a peculiar singer from out Portmore, I-Wayne. After two successful releases with the largest Reggae imprint in the world, VP Records, I-Wayne is back with his third studio set for the label, 'Life Teachings'.
Besides what remains his largest hit to date, the mammoth One Man Can't Satisfy Her, I-Wayne is known as an artist who lifts up righteousness and calls down condemnation on negativity and wickedness wherever he sees it existing and that continues well throughout the new album. Joining the singer along his way is another big name who has enjoyed a sensational rise over the past few years, Roots Princess Etana on Life Joy, as well leading Dancehall lyricist, Agent Sasco who appears on the well spun Fire Song. Listeners should also be aware of the big big title track as well as the very strong and very curious Drugs & Rum Vibes.
The term 'most anticipated' is completely overused in Reggae and all of music, for that matter but... One of the "most anticipated" albums of 2011; I-Wayne's 'Life Teachings' from VP Records arrives in stores on October 11th.