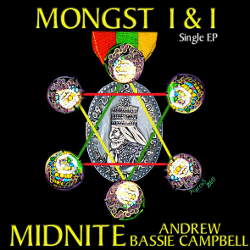 Hyper-productive Midnite from the Virgin Islands is set to release Mongst I&I, the brand new single from their upcoming album 'Kings Bell'.
The single will be accompanied by Midnite's first ever music video, a video recorded on location in both Frederiksted, St. Croix, and Kingston, Jamaica.
Mongst I&I is based on a one drop riddim and is a digital-only release featuring the single, the music video, two remixes courtesy of Lustre Kings' Andrew "Moon" Bain and SoundPonics, and a dub mix.
'Kings Bell' is Midnite's first album with a Jamaican producer, Andrew "Bassie" Campbell, and features Jamaican musicians such as drummers Leroy "Horsemouth" Wallace and Squidley Cole, percussionists Mikey "Boo" Richards and Sticky Thompson and guitarist Earl "Chinna" Smith.
The album is mainly recorded at Tuff Gong Studios in Jamaica, with additional overdubs, vocal recording and mixing completed at I Grade's studio in St. Croix.
Mongst I&I and 'Kings Bell' is released through I Grade Records and Andrew Bassie Records on September 27th and November 1st respectively.