Heavy Reggae heads should be well pleased when they get a glance at the roster of artists to be found on 'Bun Babylon Oppression', the latest project from esteemed producer 'Da Gold Moor', Ras Kwasi. This wicked compilation features large efforts from some of the most skillful lights currently on the Roots Reggae scene, all singing songs aimed at chanting down corruption and uplifting the oppressed populations of the world.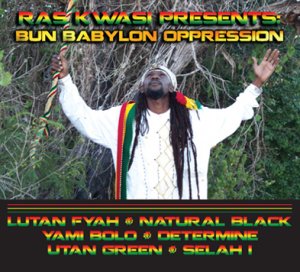 Like who? Lutan Fyah, Natural Black, the oft-overlooked, but extremely talented Determine, Selah I and even veteran Utan Green all impress on Bun Babylon Oppression with excellent tunes (especially check Determine's sizable opener, Unite Africa). But really taking over on the album is the incomparable Yami Bolo whose two original selections Blood Diamonds and Bloody Coltan are amongst the finest sets to be found on the entire album. Also, be sure to check that the album reaches its end with dubbed out versions of several of the tracks which, again, are sure to grab the attention of well established fans.
Surely you're interested by now, so don't hesitate. 'Ras Kwasi Presents: Bun Babylon Oppression' is available on CD and in digital stores right now through Basis Interactive Inc.