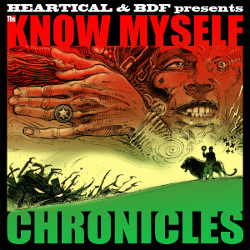 French label Heartical has yet another relick of a classic reggae riddim set for release. This time it's the Know Myself riddim, originally recorded as an instrumental by Conscious Minds titled 'Something New' and put out in 1974. The most well-known version is Ernest Wilson's 'Know Myself' that dropped a few years later.
The new version is laid by Heartical's long-time collaborators Basque Dub Foundation along with legendary drummer Sly Dunbar, who also played on the original Know Myself.
The thirteen cuts are voiced by both legends and fresh talents. You might recognize Michael Rose, Dawn Penn and Ernest Wilson himself, who is represented on two cuts. Lesser known artists include the Spanish brother and sister duo Rootsmala, Tiwony from the French West Indies and Original Uman out of Belgium. Included are also a dub version and a melodica cut.
Heartical followers might notice that some of these cuts are already available on the recent compilation 'Heartical Story'.
The Know Myself riddim hits the streets as digital download on October 14th and as five 7" singles on October 30th.