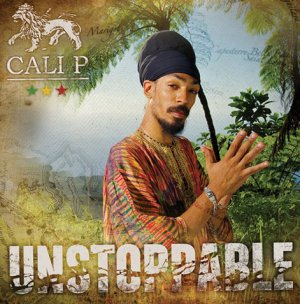 In stores now is 'Unstoppable' the most anticipated second album from wicked Gwada/Swiss chanter, Cali P. The album follows 'Lyrical Faya', the artist's well regarded debut set from 2008 and it features a very very interesting twist. That first album showed Cali P to be an outstanding Roots Reggae chanter much in the same style as several of his more popular peers such as Sizzla Kalonji, Anthony B and the likes. Here, however, Cali P has turned, almost exclusively, into this very fascinating Dancehall DJ, while retaining his most positive and uplifting message.
The album features a variety of hardcore Dancehall and Hip-Hop tracks courtesy of Riga, of Hemp Higher Productions and sounds nothing like what may have been imagined from listening to Cali P's Pow Pow produced debut album. Impressive here is just how skiled he proves to be on teh new style and despite it's very 'immediate' sound, by its end 'Unstoppable' proves to be a very complex and mature project.
Hemp Higher Productions along with Inspired Music presents Cali P's 'Unstoppable' which is currently available on CD, Digital and Deluxe Digital release.