Rock-A-Shacka has reissued two 7 inch singles on the little known Sonia Pottinger owned Bronco label, on which Boris was credited as the lead artist and producer for the first time.
Boris Gardiner's musical career started on the tourist circuit during the 1960s where he was a member of Carlos Malcolm & the Afro Caribs and Byron Lee's Dragonaires.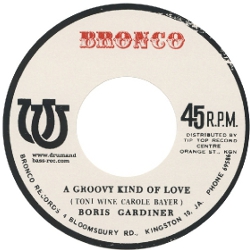 Towards the end of that decade he started to put out self-produced material and also worked extensively as a session musician/member of The Upsetters, The Aggrovators, The Now Generation and The Crystallites.
The first single features a cover of Groovy Kind Of Love, a song first released by Diane & Annita in 1965, but is probably better known by UK pop group The Mindbenders, who recorded their cover later in that same year and peaked at #2 on the UK charts. Boris's version is very melodic and features backing by Hux Brown and Keith Starling, among others. On the flip of this is Bobby Socks, which refers to the short socks worn by young girls and uses this as a theme to tell a story of the transition of a young girl to womanhood.
The second single actually features Roy Panton on the A-side, a singer who started out in the early 60s recording for Coxsone Dodd at Studio One with Millie Small, as the imaginatively titled duo Roy and Millie, where they had minor local hits with We'll Meet and I Go. The cut here though is the solo outing 'Endless Memory', which has appeared on a number of compilations, but never the less the is still a beautifully haunting Rock Steady number with a delicate keyboard motif buried in the perfectly executed hornless backing rhythm. The flip of this single is Boris's minor key masterpiece I'm Alone from 1969 which again exemplifies his sweet, harmonious vocal style.