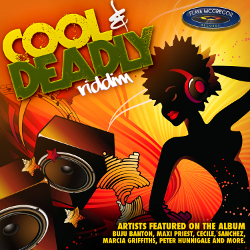 Finally, after several billions of years, the leading Reggae producer in the world, Kemar 'Flava' McGregor has delivered his latest composition and while, truly, nothing could be worth that kind of a wait, the aptly titled Cool & Deadly Riddim once again reaffirms McGregor's grand stature in the music - It is absolutely excellent. The smooth and melodious set finds the producer going in a very familiar direction as it subsequently gives birth to modern Lover's Rock winners from a variety of interesting sources.
Big Jamaican names such as Marcia Griffiths, Buju Banton [alongside Jovi Rockwell], the incomparable Sanchez and even Ce'Cile feature on the riddim which also includes a roster of full on legendary vocalists from out of the UK. Peter Hunnigale, Janet Kay, Carroll Thompson and Maxi Priest headline a group which also includes the delightfully Jazzy Adele Harley. Sadiki and Kashief & Nikesha Lindo round out of the very impressive lineup of stellar names on the riddim.
Surely you've waited entirely too damn long for a new riddim from the genre's finest, but the wait is over. The Cool & Deadly Riddim from Kemar McGregor is currently available on etailers worldwide as well as on FlavaMcGregor.com.