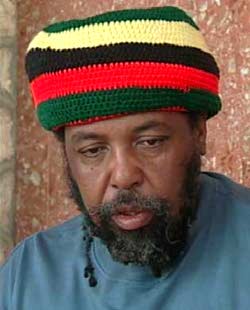 Phillip "Fatis" Burrell – one of Jamaica's greatest and most important producers – passed away last night following compilations from a stroke about two weeks ago, reports several sources.
Phillip Burrell was born in Jamaica, but moved to the UK as a child. However, as a teenager he moved back to his native country where he later started a career as a producer.
His breakthrough came in the early 90's when he set up his Xterminator label producing artists such as Freddie McGregor, Marcia Griffiths, Beres Hammond and a truck load of other well-known singers.
He was also part of the rasta renaissance in the 90's and instrumental in shaping the careers of Sizzla, Luciano and Turbulence.
The output from the Xtermintor camp slowed down when Sizzla, Luciano and Mikey General left the label in the late 90's. With his son Kareem, he has recently put out a number of new riddims on the Xterminator imprint showcasing both old and new talents.
A start to get acquainted with the Xterminator label is the compilation 'Rough inna Town: The Xterminator Sound' on Maximum Pressure. Included are the wicked Luciano & Josey Wales & Charlie Chaplin combination Rebel With A Cause or Luciano's own chesty Gunzalis with a echo-laid saxophone. You can also listen to mixes Xterminator Special volume 1 and volume 2.