Veteran Jamaican roots vocalist Sylford Walker has put out a new single with American heavyweight dub and reggae producer McPullish.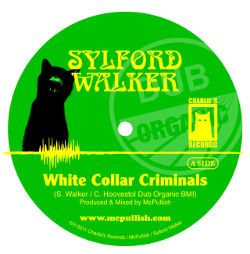 White Collar Criminals/Dub of Correction is a fine slice of extremely heavy dub-infused sparse roots reggae, and fits perfectly as a soundtrack to activities within protest initiatives such as Occupy Wall Street.

"This timely one drop song has had a strong response from sound systems, live audiences and radio selectors worldwide and we hope it reaches a wider audience in these times of political unrest and rampant corruption," says McPullish.

At the same time McPullish makes three previously 7"'s with vocals from Lutan Fyah, Mark Wonder and Sylford Walker available for digital download on all major digital platforms. The 7"'s and the digital versions feature its dub counterpart.