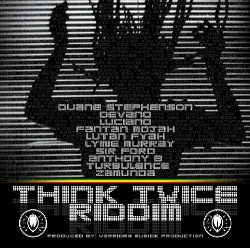 In November Warrior Musick's Dameon Gayle dropped the Think Twice riddim, a riddim inspired by Phil Collins' smash hit ballad Another Day in Paradise.
The first single of the riddim was Fantan Mojah's anthemic Rasta Got Soul, where he pays tribute to legendary reggae artists – "If me no call your name, please catch me inna di next song, cause the list a di name a to long."
"The riddim originally started as song for one of my artiste Sir Ford's up coming album. Every time we hang out he has been singing that Phil Collins song Another Day in Paradise, so we decide to get it done for the album. We worked on the riddim and tried to record the song on it but it just wasn't successful, deciding that we should try an original song for the riddim, Oh Lord," said Dameon Gayle to HDP Global in December.
Duane Stephenson's cut is a cover of the original tune, and among the other artists that have voiced the riddim are Luciano, Devano, Lutan Fyah, Lymie Murray, Sir Ford, Zamunda, Anthony B and Turbulence.