For the first time the complete recordings of Frank Dowding or Kiddus I as he is more formatively known are to be released by Dub Store / ReggaeRecords.Com.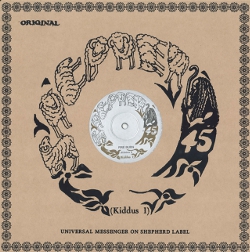 Kiddus I is the mysterious figure singing at the start of Ted Bafaloukos influential 1978 film "Rockers" and was a graduate of Ras Michael's Sons Of Negus. He was also a key member of The Wailers milieu, and a Black Ark artist. His disdain for careerism has held him back from the spotlight - as so many people in Jamaican music will tell you, and so a lot of his work was unreleased in its own right. Now though a plethora of 12 and 7" singles are to be released plus the rerelease of "Kiddus I - ROCKERS: Graduation In Zion 1978-1982".
The 12" singles will include an unreleased extended version of the renowned song Graduation in Zion from the movie "Rockers" plus fellow unreleased track Jah Power, Jah Glory which was recorded at Tuff Gong in 1979 and was to be the title track from his unreleased debut album along with alternate versions of Give I Strength and Fire Burn that were also to appear on this album. The final 12" is Security In The Streets and then there are to 7" singles Crying Wolf with a version on the flip and Graduation In Zion backed by Salvation.