Seb Carayol is a French writer that has been writing for the now folded French reggae magazine Natty Dread as well as acclaimed U.S. magazine Wax Poetics.
He has been writing about obscure reggae for almost a decade and now wants to give something back to the artists he has encountered.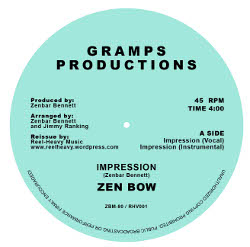 His new venture Reel-Heavy Records is reissuing a long lost roots gem from Jamaican born U.S. resident Zen Bow.
'Impression' 12" was originally released in 1986 in 1,000 copies on a small label based in Connecticut and nowadays fetches huge sums in the collectors market, and some have paid up to $600 to get their hands on it.
'Impression' 12" will be available in stores on May 15th, and in the meantime you might just check Seb Carayol's story on Zen Bow in Wax Poetics no. 43 September/October 2010.