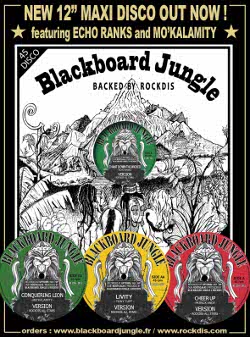 Multifaceted French collective Blackboard Jungle, who are one the country's heaviest sound systems to have played at the University of Dub in London and the Paris Dub Meetings sessions alongside the likes of Jah Shaka, Aba Shanti I, Channel 1, Iration Steppas and King Shiloh have just released their latest 12" vinyl 'Chant Down The Wicked' which features Mo'Kalamity and Echo Ranks on a riddim created by The Rockers Disciples (ROCKDiS).
This is the fifth 12" from Blackboard Jungle who compose music in their own studio which they of course then promote through their sound system. Their past collaborations have included artists such as Afrikan Simba, Vivian Jones, Empress Rasheda, Lutan Fyah, Ranking Joe, Tony Roots, Earl 16, Michael Prophet, The Viceroys, Christine Miller, Ras Mac Bean, Kenny Knotts and Murry.
This and previous releases are available from blackboardjungle.fr.