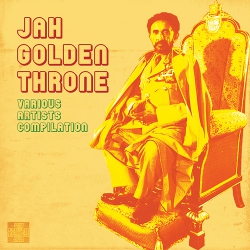 'Jah Golden Throne' is the brand new various artist compilation from U.S. reggae production powerhouse Zion High Productions, known for albums for Messenjah Selah and Yami Bolo.
The new compilation – out on April 3rd – collects a survey of contemporary original roots reggae riddims voiced by respected voices and rising stars in reggae today. Featured singers and deejays include Lutan Fyah, Pressure, Jahdan Blakkamoore, Tippa Irie, Lloyd Brown and Arkaingelle.
The studio work is anchored by Zion I Kings, a group of producers that comprises David "Jah David" Goldfine from Zion High Productions, Alfred "Tippy" Laurent from I Grade and Andrew "Moon" Bain of Lustre Kings fame. This trio has during the past years put out stunning albums from Jahdan Blakkamoore, Toussaint and Perfect.