The good news is that the 19th ROTOTOM reggae festival will take place yet again. Recently relocated to the sunny seaside town of Benicassim (~ 85 km north of Valencia) in Spain, it promises to be yet another epic event, running from August 16th to 22nd next.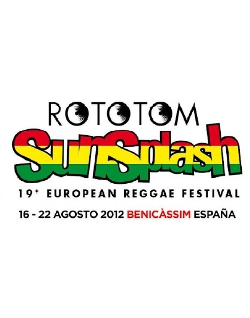 Though there's still about 5 months to go, a host of top acts has already been announced for the SUNSPLASH. Alphabetically listed, these include Alborosie, Bitty McClean, Derrick Morgan, Ernest Ranglin, G. Palma & The Bluebeaters, Jah Mason, Linval Thompson, Max Romeo, Michael Rose, the Mighty Diamonds, Monty Alexander, Muchachito Bombo Infierno, Obrint Pas, Pablo Moses, Protoje, Sly and Robbie, Tanya Stephens and Zion Train.
A fascinating feature of the festival promises to be the goodwill free performance of the legendary Diamonds, Moses and Thompson in the heart of the city on August 15th. Thereafter between the Spanish-oriented Obrint Pas, Ranglin and Alexander's jazz influence, McClean's vocals, Alborosie's antics, Sly and Robbie's rhythms, Romeo's extensive back catalogue, Palma's Italian orchestral suite, the politically-aware Stephens, Protoje's 'modern' reggae, the diverse fusion of Muchachito, Morgan's ska to rocksteady roots, sinjay style Mason and the trance inducing Zion Train, it seems like the audience are in for quite a ride!
One of the greatest features of this festival - which could legitimately lay claim to the top ranked status of reggae festivals worldwide - is that in addition to the excellent music furnished every evening, there are a wide range of supplementary activities on offer to cater for all tastes. So whatever you're into, whether it be music, seaside sports, art, photography, the circus, tribal villages, holistic 'well being', political, social or cultural (incl. reggae university!) debates or good food and drink, this is the event to be for the helpless reggae-addict! (http://www.rototomsunsplash.com/)