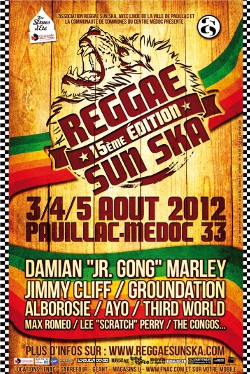 This year sees the 15th Edition of the Reggae Sun Ska Festival taking place over the weekend of August 3rd/4th/5th 2012 at Pauillac, Médoc, France, with over 45 acts spread across 3 stages.
The festival, as well as being one of the oldest in France, is one of the 5 biggest reggae festivals in Europe, in terms of number of acts and attendance as well as probably one of the most picturesque as Pauillac is situated in the famous vineyard region of Bordeaux close to ocean beaches.
Over the last 7 years festival organisers have been developing a green friendly policy, the "Eco Sun Ska" approach, in cooperation with the free association Meduli Nature, to minimise the effect of so many festival goers on the local area and lessen the impact on the environment by promoting eco-citizen behaviour.
The first acts for the event have just been announced and this includes an exclusive appearance by Damian 'Jr. Gong' Marley. Also on the bill are reggae greats Jimmy Cliff, The Congos, Max Romeo, Linval Thompson, Pablo Moses, Mighty Diamonds, Third World and the equally brilliant and perplexing Lee 'Scratch' Perry. More contemporary acts include Tarrus Riley, Mr Vegas, Busy Signal, Italian Alborosie and Groundation from America. UK acts appearing are Reggae Pop virtuoso Hollie Cook, Dancehall star General Levy and Madness saxophonist Lee Thompson with his Ska Orchestra. They'll be some Reggae, Soul crossover from Germany's Ayo and an appearance by fellow countryman Sebastian Sturm. Senegal will be represented by Natty Jean, while for the home side we will see some Dancehall from Biga Ranx, Papa Style and Baldas, Dub from Kanka plus Hip Hop and Electro beats from Le Peuple de l'Herbe.
With such a strong and varied line up already confirmed, with more to be announced, it looks like the 15th anniversary of the Reggae Sun Ska Festival could be one of the best.
Video
Video: Reggae Sun Ska Festival 2012 - Teaser