Pressure Sounds – one of UK's finest reissue labels – follow up on the successful Phil Pratt produced rocksteady compilation 'Safe Travel' released in 2005.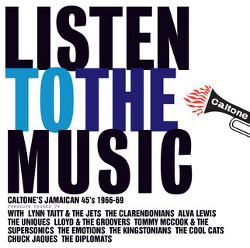 'Listen to the Music' is a 21 track set that covers the years 1966 to 1969. It includes rare ska, rocksteady and early reggae gems from Caltone, a label run by businessman Ken Lack. The production duties were however mostly handled by Bunny Lee and Phil Pratt with input from Lynn Tait, Tommy McCook and Johnny Moore.
The recording sessions on 'Listen to the Music' took place at WIRL, Federal and Treasure Isle studios and the album includes, for example, scare tracks by Tommy McCook & the Supersonics and The Clarendonians, led by the vocal talents of Peter Austin. Their I'm Sorry and Lonely Heartaches are drawn from 45s that have never been reissued since the original Jamaican pressings.
'Listen to the Music' drops on April 10th on CD and double vinyl and also includes an extra special booklet with many original graphics and photographs.