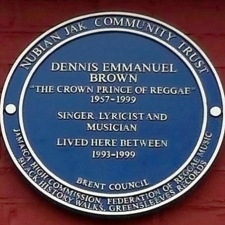 The house on Hazeldean Road, Harlesden, where Dennis Emmanuel Brown lived with his brother between 1993 and his death in 1999 has been affixed with a blue plaque to honour his memory.
An unveiling ceremony took place on Saturday 7th April and was attended by Brown's widow Yvonne, his brother Leroy and other relatives. Guests and speakers included Delroy Washington, Carol Thompson, Winston Francis, Jimmy James, Count Prince Miller and Daddy Ernie from Choice FM.
The plaque was erected by Nubian Jak Community Trust Plaque scheme which seeks to commemorate notable ethnic minority figures in the United Kingdom.
Blue plaques have been used in London since the 19th century to mark the residence of famous people in the capital.
Delroy Washington, whose organization Federation Of Reggae Music, were instrumental in the project, told United Reggae that "What attracted a lot of young people over here to Dennis Brown was that he was quite ordinary. Dennis Brown could walk down Harlesden High Street or Church Road or go to the blues down at Denzil Road and just be like anyone else."
Washington said plans were also in place to honour his friend Bob Marley's residence at a house in Neasden where he lived in 1972.