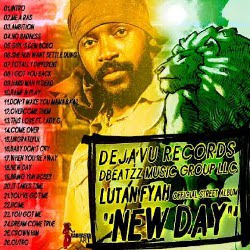 'New Day' is a free mixtape from Jamaican singjay Lutan Fyah presented by Jamaica's Dejavu Records and DBeatzz Music Group, based in the U.S. It collects 26 tracks, covering roots and one-drop to a deejaying style that fans may not yet be used to.
"Lutan Fyah is an artist that can go very far internationally," explains DBeatzz in a press release, and adds why they chose to work with Lutan Fyah:
"We also want to show other artists that when things are done right, there are groups worldwide willing to invest in reggae."
Lutan Fyah is known for hit songs like the Josie Mel combination Rasta Still Deh Bout, and on 'New Day' he sticks to his roots affirming his faith in righteous livity in songs like Me Ras and No Badness.
And just in time for Jamaica's 50th celebration of independence, songs like Overcome Them and Ambition offer motivation for youths who are disillusioned by difficult situations making them feel as if gun life is the only ways out.
"To me, Lutan Fyah is one of the realest reggae artists left out there and we want to big this up in every way," states producer Jermaine "Chase" Blake of Dejavu Records.
'New Day' is available here: http://www.87six.com/Lutan_Fyah_New_Day.zip.