The Nazarenes are made up of brothers Noah and Medhane Tewolde, born and raised in Addis Ababa, Ethiopia, to a family that worked for Emperor Haile Selassie. Nowadays they reside in Sweden, and their new album – 'Meditation' – reflects the journey of reggae travelling from Jamaica, to the Caribbean and to the world.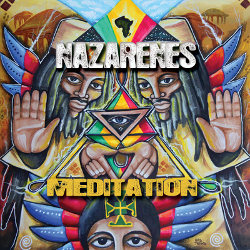 'Meditation' is produced by Laurent "Tippy I" Alfred of St. Croix-based I Grade Records and was preceded by the double A-side single Food/On My Way. It collects 14 tunes, of which two are combinations with Jamaican singjay Lutan Fyah and VI-reggae trailblazers Midnite.
The album is I Grade Records' first album project with an African group, and the Laurent Alfred says the chain of events that has linked Jamaica, St. Croix, Africa, Europe and now the world is evidence of reggae's contribution to world music and the Nazarenes place at the forefront of a new generation of global citizens.
"It's a special feeling to know that this album has so many points of connection from across the African Diaspora and the world," says Laurent Alfred in a press release, and adds:
"It represents the unifying force that roots reggae has always been."
The Nazarenes are likewise devoted to their craft and their unique role in the global community.
"Song writing is a process," says Noah Tewolde, while his brother Medhane adds:
"We go in deeper than name only. We sing from experience and with the belief that Marcus Garvey's call for 'One Aim, One Aim, One Destiny' is possible across borders."
The Nazarenes established themselves independently on their self-produced debut album 'Orit' in 2001, and later broke out with 'Songs of Life' three years later before teaming up with I Grade Records for the first time on the single Everlasting, which was included on the acclaimed compilation 'Joyful Noise'.
'Meditation' hits the streets today, and as a teaser United Reggae and Soul of the Lion invite you to download the Midnite combination The Lord Said for Free.