Foundation Sound, the UK based sound system and record label have released a 12" EP titled 'My Burdens' featuring Dark Angel on vocals. The track is then given the dub treatment plus handed over to two rising stars of dubstep TMSV and Dirty Specs who each add their own take on the B-side.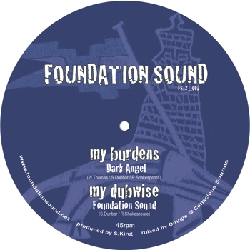 The riddim for 'My Burdens' is a rebuild of Ini Kamoze's 1983, Trouble You A Trouble Me to which Dark Angel delivers his philosophical and thoughtful message on life's stresses and tribulations alongside his faith in Rastafari. Dark Angel has performed throughout the UK and in numerous countries across Europe, releasing recordings on Boka and Roots Garden Records as well as collaborating on numerous RnB, Dancehall and Hip-Hop tracks.
Tomas Roels aka TMSV is an up-and-coming dubstep producer from The Netherlands whose work has been released on labels such as Box Clever and Tube10 records as well as a featured remix on the Greensleeves compilation album 'Dubstep Chapter 1'.
Dirty Specs are a production and remix team consisting of Sam King and Richard Hales who have a diverse musical agenda based on their shared love of reggae and jungle/DnB. 'My Burdens' is their second remix following on from one featured on Chezidek's 'The Place' EP released earlier this year on King Dubbist records.