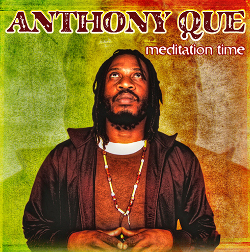 Jamaican singer Anthony Que started singing at the tender age of ten and recorded his first single in 1997 for Sugar Minott's Youth Promotion label, and then moves on to work for Beres Hammond's Harmony House cutting the Jah Cure combination Same Road.
His debut album, 'A Brighter Day is Coming', is recorded in the UK for producers such as Mike Brooks, Stingray and Russ Disciples. Its follow-up is also recorded in the UK, but this time together with Tony "Ruff Cutt" Phillips.
Anthony Que's new acquired fame allows him to participate to Jamaican festival Reggae Sunsplash, and back in his homeland he also records his third album – 'Jamaica No Problem'. The promotional tour of the album takes him to France where he meets the Babyclone Band and 149 Records, and a fruitful collaboration begins with Anthony Que voicing riddims like Datta and Speaker.
The latest result of their joint efforts is 'Meditation Time', Anthony Que's latest album. It contains 15 slices of dancehall, moderns roots and lovers rock and is set for release on May 28th.