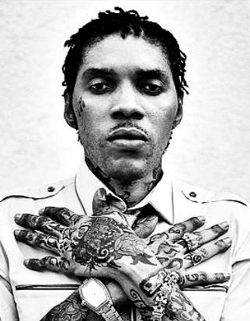 Dancehall superstar Adidja "Vybz Kartel" Palmer – who is currently incarcerated on murder charges – has put out a statement today where he disbands the Portmore Empire, an alliance of dancehall artists from Portmore which has been lead by himself for many years, and used to include successful artists such as Jah Vinci, Popcaan and Deva Bratt.
"These artistes have been under the Adidjahiem [Vybz Kartel's record label] leadership for years, where they have honed their craft and made their mark, and as such, are well on their way to becoming major forces in dancehall. They have reached a level where they are more capable to take on their careers by themselves, and it would be unfair to them, based on the limited resources of Adidjahiem Records, and current legal woes of the Adidjahiem C.E.O. and team members," writes Vybz Kartel, and concludes:
"I wish them the best and I am confident that they will live up to my expectations. In the future, Adidjahiem will continue to bring out new acts and groom them for stardom."
Two of the former members of Portmore Empire – Gaza Slim and Tommy Lee – have formed a new label to pursue their careers.