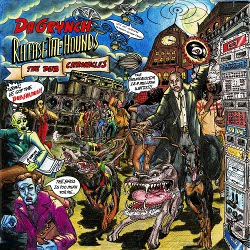 Curtis Lynch – UK producer and owner and founder of the Necessary Mayhem and its several subsidiaries – follow-up his dub EP 'Dubstrumentals' with his debut dub album under his alias Da Grynch. It's titled 'Release the Hounds' and boasts seven dub tunes.
"I wanted to experiment with different sounds and styles," says Curtis Lynch in a press release, and continues:
"Dub is a way I can express myself without the restriction of basing it around the classic structure of a vocal, concentrating more on the instrumentation."
The A side on the vinyl edition features dub versions of Necessary Mayhem vocal tracks which have been making waves over the past few months, such as Possessed by Tarrus Riley and Our Music by Macka B.
Dubs exclusive to 'Release the Hounds' can be found on side B. These include tunes such as Ravers, a track by latest Necessary Mayhem Black signing Killa Mosquito, and Tuff, which has been as described by Curtis Lynch as a sound system set tester.
'Release the Hounds' drops on LP and digital download on June 12th.