Following up on the successful reggae tribute albums of 'Dub Side of the Moon', 'Radiodread' and Easy Star's 'Lonely Hearts Dub Band' comes Easy Star All-Stars reggae adaptation of the greatest selling record of all time – Michael Jackson's 'Thriller'.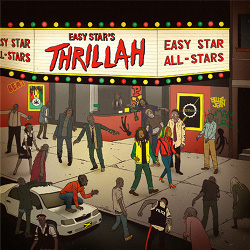 Easy Star's 'Thrillah' brings back several of the reggae stars from previous albums, such as vocalists Michael Rose, Luciano and Mojo Morgan. The album will be preceded by the July 10th digital release of the Billie Jean EP, which includes two album tracks, along with non-album remixes and a dub version.
"We've always tackled the greats – The Beatles, Pink Floyd, Radiohead – but while we wanted to take on another huge album, we also wanted to blaze new trails. In Thriller we found those new trails in a number of firsts for the series: the first album by an American artist, the first non-concept album, the first R&B/soul record, as well as the first release from the 80s," says Easy Star Records co-founder Lem Oppenheimer in a press release about selecting Thriller.
"For me, I was most excited for Thriller," comments producer, arranger and guitarist Michael Goldwasser, and continues:
"I was always more of an R&B/soul and reggae kid growing up and I have an intense personal connection to Michael Jackson's music. Writing the arrangements for this album was a cool challenge. I didn't have to try to make non-dance music into dance music as on our previous albums because the original Thriller is so danceable already, but I needed to find ways to make each song groove in a different way from the original version. I didn't want any of the arrangements to be obvious in that regard."
Easy Star All-Stars take on the King of Pop's classic album hits the streets on August 28th.