SpringlineJamaica & Roots Lab Intl presents 'Temptation' the debut album from UK roots reggae vocalist Ras Sis Highness. The album captures a mixture of vintage and modern roots reggae that according to Digi Roots (Founder of Roots Lab Intl) "brings an energy and elegance to the listeners with a heartical message that resonates deep within". While SprinlineJamaica founder Gibsy describes the album as "potent vocals delivered with Ghetto wisdom that hits the spot, she's truly at home on the uplifting density of the riddims built by Digikal Roots".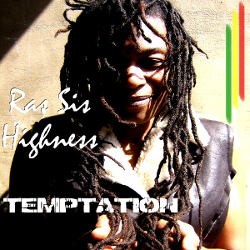 Ras Sis Highness (Rosalind Brooks/Simpson) was born In London, before moving to Jamaica and then returning to the UK to pursue her musical career which began in 2008 when she hosted and managed a dubstep night called 'Powah'.
Of her music and the message she wishes to convey Ras Sis Highness said "I have been inspired by a lot of vintage and veteran artist such as Horace Andy, Dennis Brown, Bob Marley and many more. I sing roots and culture as that is all Ii know, and within comes the teaching of the most high god Jah.
I write my own lyrics as and when they come to me. I give thanks to Jah for giving me the role to teach and keep his words alive.
Digikal Roots has been a friend as well as my producer and manager and we work well as a team to carry the light and message. Thank You Digi.
In the future I would like to work with a live band and travel to perform for my fans as this is for them very much indeed. I love you All. I know Jah will bless me and guide me on the road of music and I can spread his love and vibe".
'Temptation' is available now for digital download at iTunes / Amazonmp3 / eMusic / Routenote / RootsLabIntl and Spotify as well as on CD from www.rootslabintl.com and www.comeficonquer.com.