Think Jamaica is all about reggae music? Think again. Five Steez is a Jamaican MC hailing from Kingston and has made a name for himself in underground hip-hop circles wordwide.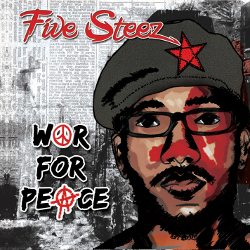 His 13 track debut album 'War for Peace' is set for release on August 21 and sounds unlike anything you've heard coming from the land of reggae.
"This album is intended to guide people towards peace in their lives," says Five Steez, and adds:
"The title represents triumph amidst struggle. It is a metaphor for the ironic reality that the path to wisdom, freedom, peace and happiness is a tough one."
Five Steez has previously connected with the likes of New York City radio host DJ Ready Cee for the Momentum mixtape series, which received support worldwide.
"I need to tell my story and the stories of my peers who don't have the platform I do. I hope I can show somebody something and change a life the way I've seen hip-hop change lives already," he says, and concludes:
"We're in a new age and evolution is mandatory but the essence of the music has to be maintained."