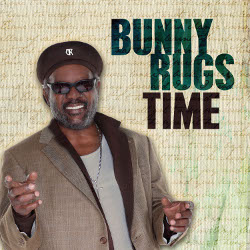 'Time' is the fifth solo album from Bunny Rugs, lead singer of acclaimed and widely awarded pop reggae band Third World, a band that was formed in 1973 and has put out a total of 23 albums.
Bunny Rugs' new 15 track album is in a press release described as soulful reggae with jazzy vocal experimentation and cool bass, drum, sax and piano riffs.
On the album Bunny Rugs has a top cast of producers and songwriters, including Sly & Robbie, Dean Fraser, Mikey Bennett, Dean Pond, Rohan Dwyer, Steven Stanley and Richard "Bello" Bell of Star Trail Records.
The first single, Land We Love, is Bunny Rugs' tribute to his homeland in its 50th year of independence, setting the tone of unity and love in song and video. The full album hits the streets on September 11 on digital platforms and CD.