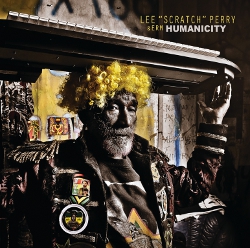 Iconic Jamaican producer, sound engineer and singer Lee "Scratch" Perry has teamed up with French musicians and producers E.R.M – Olivier "Piment" Gangloff and Romain "EasyMode" Ferrey – on his new album 'Humanicity'.
The album collects ten newly recorded tracks on ten different riddims created at E.R.M's studio in Strasbourg, France. According to a press release Lee Perry improvised the lyrics on all songs and he sung "with the aggressiveness of the early days, the melancholy of the difficult time and the humor of a rich and eventful life".
'Humanicity' is now available on digital platforms. A CD and LP edition will hit the streets in March 2013.