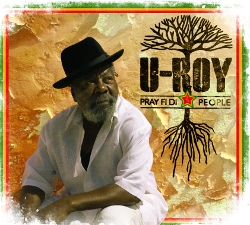 Jamaican deejay pioneer U-Roy is one of the most influential artists ever from Jamaica. He started his career in the 60's and has been active on the reggae scene ever since.
On October 9th he drops his new set 'Pray fi di People' where he has invited 13 mostly contemporary artists to share the microphone with him, among them Chezidek, Tarrus Riley and Bitty McLean. Some veterans also show up such as the empress of reggae music Marcia Griffiths and Horace Andy.
The majority of the 13 tracks is produced by U-Roy himself and was recorded in Kingston, Jamaica.