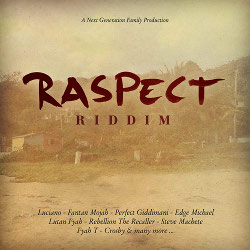 Germany's Oneness Records have recently put out a new one riddim compilation titled Raspect riddim, including no less than 18 vocalists.
It first appeared on German singjay Fyah T's debut album 'Familywise' released last year, and his No Raspect is naturally included on the album.
Other artists that have been voiced are Perfect, Rebellion the Recaller, Luciano, Fantan Mojah and Lutan Fyah among several others.
Raspect riddim is now available on the usual digital outlets around the world.