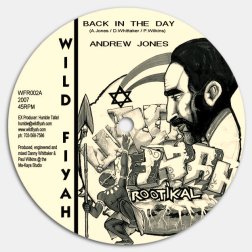 After 2007 Majuah' Oh Jah, American Wild Fiyah Rootikal label comes back with a powerful stepper 10' produced by Humble Tafari and played by Ma-Kaya sound.
It features one vocal cut Back In The Day by Andrew Jones remembering great vibes in UK roots sound system scene with Coxsone, Jah Shaka or Jah Tubby's to name a few, and two dubs, Back In The Dub and Dub In The Day.
Heavy stepper production that will make you prance in upcoming dances !