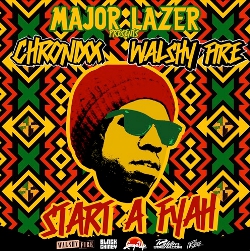 Young, up and coming super-talent Chronixx has really made a name for himself over the past months with strong singles such as Beat And A Mic and Plant It.
And he has obviously attracted attention from the Major Lazer team. They have now produced and released the mixtape 'Major Lazer Presents: Chronixx & Walshy Fire – Start a Fyah', where the youthful performer sings, raps and deejays over a broad variety of riddims to flex his skills.
This is a mighty mixtape. Actually one of the best in a while. And it largely succeeds thanks to the versatile selection of beats and the multitalented Chronixx.
Listen to the mix below and head over to Major Lazer's Soundcloud page to catch the tracklist.