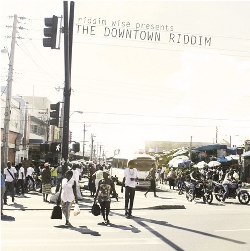 Canadian production duo Riddim Wise has teamed up with Transamazoniennes Records for the release of the Downtown riddim. This bouncy and tight riddim features cuts from some of the biggest names in Jamaican reggae such as Sizzla Kalonji, Lutan Fyah, Turbulence, Perfect and Mikey General, but also some artists from Canada like Mikey Dangerous, Dan Fiyah Beats, Marky Lyrical, Face T and King Shadrock.
Africa is represented with Senegalese rapper Awadi featuring Congolese singer Tibass Kazemtik. Prince Koloni from Surinam also turns up.
Diversity and quality are present, as veterans and big stars share the spotlight with young and upcoming artists, and the songs range from singing about love to fighting freedom, from passion to resilience. Jamaican Patois, English, French, Sranang Tong (Guyana) and Lingala (Congo) make this a eclectic and interesting project.
The Downtown riddim pays tribute to the neighborhood of downtown Kingston, pictured on the album cover, and is now available on digital platforms worldwide.