26-year old Londoner Natty is currently working on the follow-up to his 'Man Like I' set released in 2009. While working on that album he is about to put out a seven track EP to give a taste of what to come.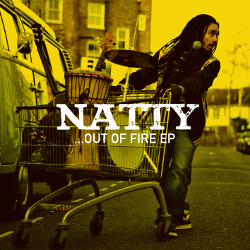 'Out of Fire' is described as an eclectic collection of tracks based on a mixtape he gave away over the summer. It ranges from roots reggae to driving digital productions, from intimate love songs to rousing calls to arms. It also features a combination with Busy Signal and Alborosie.
Natty started playing guitar at ten and his music career was launched after he had been working at a recording studio in London for four years.
"Everyone passed through that place over four years, from Razorlight to Mos Def," says Natty in a press release.
Inspired by the music around him he picked up his guitar again at 18, rediscovering song writing and landed a deal with Atlantic Records. After his debut album was released he toured the world playing alongside acts as diverse as Adele, Stephen Marley, Horace Andy, Lee Scratch and Kate Nash.
"Before I was a singer all I wanted to be was a producer. I spent hours in my bedroom creating tracks alone. Sampling, banging stuff, programming and playing guitar. Anything to get the right pressure on my speaker cones," he explains, and continues:
"I was also a rapper, not a singer, so those were the first kind of lyrics I wrote. It was only when I started singing and playing my songs in public that I fell in love with playing live music."