Acclaimed Jamaican roots artist Junior Kelly is back with his tenth album 'Piece of the Pie', the follow-up to his successful 'Red Pond', released three years ago.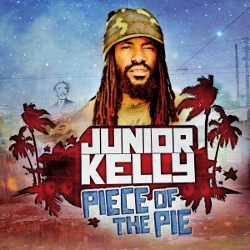 The new album boasts 15 rootsy tracks from producers in Jamaica and Europe and is influenced by hip-hop, dancehall and even some salsa. It was partly recorded at the legendary Tuff Gong studio in Kingston, Jamaica.
"For this album we really took the time to put the songs together so they could tell a story, and if you listen to each song going into the next you can hear the story line," explains Anthony Senior of Al.Ta.Fa.An Records, the label behind the release.
Junior Kelly grew up in a musical family and released his first single Over Her Body nearly 30 years ago, but had to wait until the year 2000 before making an impact on the charts with his smash hit Love So Nice. The tune and the album of the same name established him as a profound and socially-conscious singjay in Jamaica and around the globe.
'Piece of the Pie' includes combinations with Lion Face, Smiley and Mark Wonder and some of the tracks have already been released as singles by Al.Ta.Fa.An Records. The album will be out on CD and on digital platforms in April.
Video
Video: Junior Kelly - Creator (2006)