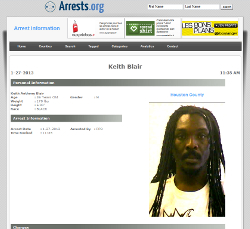 Popular reggae singjay Anthony B and his band from Miami were arrested in Atlanta, Georgia, on January 27 for possession of 5 ounces of marijuana with intent to distribute.

Even though the U.S. seems to have taken a more liberal approach on possession of marijuana, this offense is viewed seriously in the state of Georgia, according to Jamaican news site Irie FM.

Anthony B is however out on bail since last night and is waiting for trial while ganja was not in his possesion when they were arrested.
Buxna Artists Agency that is promoting his European tour in March announced today that "In regards to the recent news, we want to inform you that Anthony B has already been released with no charges being pressed against him. He is feeling fine. The European tour should not be endangered."