The Courtney John Project is a brand new trio including falsetto singer Courtney John, Beres Hammond's producing daughter The Wizard and Stephen "Lenky" Marsden, know for the smash hit riddim Diwali. Together they have come created an new genre called rootstronic, a bass heavy blend of dub, roots reggae, electronica, R&B, hip-hop, dubstep, grime and, here comes a shocker, classical music.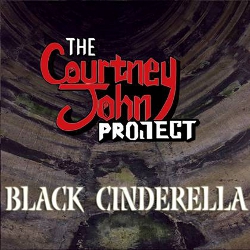 Their latest single is a version of Errol Dunkley's immortal Black Cinderella. And it happens to be one of Courtney John's favorite songs.
"I have been listening to this song for five years, but didn't know exactly how to cover the track and make it different. When I formed the group over a year ago, it was one of the first singles that I recorded. It was the perfect opportunity to re-do the track in a different style – the rootstronic style," explains Courtney John, and adds:
"It's a perfect case of where old meets new. A classic rhythmn section with a great melody meeting an electronic fusion."
The single will be available on digital platforms on February 26, but from today and for one week you can download the track for free here.
Black Cinderella is taken from The Courtney John Project's upcoming album Future, which will be released later this year.