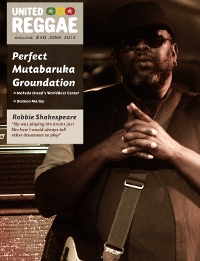 Thanks to all of our readers and contributors the United Reggae editorial team has had a very busy couple of months, and now we are on track again with the monthly issue. We have focused on the web, and making material available on the site. Now we have finalized the latest edition of the magazine - the June edition. It contains the usual heavyweight interviews, reports, reviews and news.
Other issues will hopefully soon be available.
The United Reggae editorial team would like to express its sincere gratitude to our readers, contributors and advertisers all over the globe. Without you we wouldn't be here today.
So you can now enjoy the free pdf version packed with most of United Reggae content from June.
Download the digital magazine and the sampler for free now!
This issue includes interviews from Robbie Shakespeare, Perfect, Mutabaruka, Groundation and also photos, reports, news and reviews.
The magazine can be read online or downloaded for free. And you can now also get a paper copy. Details here.