After the eclecticism of third vocal solo album '2 Times Revolution', Sicilian reggae star Alborosie has been signposting a return to roots and culture.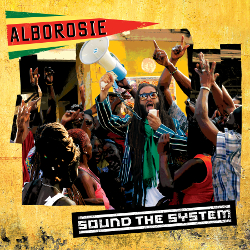 This summer his European followers can find out if new long-playing release 'Sound The System' is it.
Bearing a striking cover photograph of Albo in a striped jacket shouting to a crowd through a megaphone, 'Sound The System' will be distributed by Greensleeves.
The guest list extends to the Abyssinians, Ky-Mani Marley and Italian singer Nina Zilli.
This week Alborosie tweeted "Who ready fi di new album?? I am ready to release some new music to di world!!"
The finished project descends on June 17th as a digital download.
A 16 track CD and a 10 track LP will hit the streets on July 1st in the United Kingdom and France and on July 4th for Germany, Austria, Switzerland and the rest of Europe.
The track-listing can be seen below:
INTRO
PLAY FOOL (TO CATCH WISE)
ROCK THE DANCEHALL
ZION TRAIN (feat. Ky-mani Marley)
TO WHOM IT MAY CONCERN
WHO RUN THE DANCE
GOODBYE (feat. Nina Zilli)
U GOT TO BE MINE
LOVE IS THE WAY
THERE IS A PLACE (feat. Kemar)
POSITIVENESS
DON'T PRESSURE IT
WARRIOR Feat. Nature
GIVE THANKS (feat. The Abyssinians)
SHUT U MOUTH
OUTRO