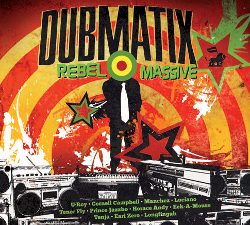 Dubmatix – a Canadian bass heavy producer, multi-instrumentalist and Juno Award winner – released his fifth studio album 'Rebel Massive' on 19 April.
As usual he blends reggae and dub with dubstep and other electronic sounds and has also invited a host of vocal heavyweights, both veterans and newcomers. Some of the names he has teamed up with this time are Tenor Fly, Horace Andy, Luciano, Cornell Campbell and Tenja.
'Rebel Massive' also includes a little treat for DJs, producers and remixers. The last track – Liberation – gives the opportunity to create an own remix thanks to its separate instrumental parts.