Jamaican Dubtonic Kru – winners of the Global Battle of the Bands 2010/2011 – is back with their third album 'Evolution'. As a taste United Reggae now offers you an exclusive download of Train to Skaville taken directly from the album that's set for release on 28 May.
Train to Skaville is a version of the Ethiopian's classic of the same name, a track that bridged the gap between ska and rocksteady back in 1967 when it was originally released.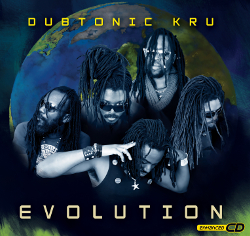 "We wanted to pay tribute to Leonard Dillon", says Jubba, Dubtonic Kru's drummer and bandleader who also sings lead vocals on this particular track.
Dubtonic Kru is an important part of the ongoing resurgence of live roots and reggae music in Jamaican. They've organized events such as Bands Incorporated and have also dared to incorporate dub elements in their music, something that's not heard much in reggae coming from Jamaica these days.
The 13 track set was recorded in Dubtonic Kru's own studio in Jamaica as well as in the Tuff Gong studio.
"'Evolution' is the journey of life, from nothing to something and from something to nothing", explains guitarist Jallanzo.
The songs were composed during rehearsals, during sound checks and on informal jams in the studio.
"The flow of music is spontaneous and random even. So we go with that flow", says the band's lead singer Kamau.
"The album shows the continuous growth of Dubtonic Kru's cohesiveness playing together as a band, but most importantly, the evidence of maturity and awareness in speaking about world issues while keeping a smile on the people's face," concludes Jubba.