Jamaican edutainer and dub poet Yasus Afari brings his brand of Caribbean music to the masses with his eight studio album 'Public Secret', set for release on June 11. The album offers 15 tracks and sees ten original one drop reggae selections along with five dub versions of selected songs.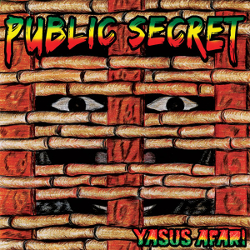 "In preparing Public Secret, my goal was to create original, inspirational, uplifting and empowering music of peace, love, hope and unity, which is relevant and accessible to all humanity," states Yasus Afari in a press release, and continues:
"I hope to touch people's lives and souls in a personal and profound way, so that together we can move onward and upward in bringing awareness into the public space, and love and harmony into the secret, sacred space of our individual and collective souls."
Yasus Afari is one of few dub poets on today's reggae scene and he delivers his messages of unity and love with wit and humor.
"Reggae-dub performance poetry is an emerging art form and genre, which possesses the capacity and intention to dub out negativity from our minds, cultures, lives and the public space, and to dub in positivity into the family of nations, which is humanity," explains Yasus Afari.
His career spans nearly three decades, including eight albums and two books, with a third underway.
"My role in this process is, and has always been, to provide awareness, visions and insights and to build bridges of friendship and goodwill, so as to make this objective of reggae-dub poetry a tangible, living reality," concludes Yasus Afari.