Christchurch, New Zealand's Reality Chant Productions (who created the Country Living, Nah Bow Down and Fire I Blaze rhythms) have teamed with Reading, England's Reality Shock Records.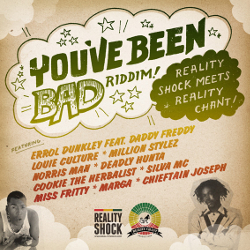 They've co-produced a new rhythm based on Errol Dunkley's 1982 side You've Been Bad at the behest of Mr Dunkley himself.
The six tunes voiced for Reality Chant's Gabriel Calcott include Louie Culture and Norris Man from Jamaica, and Sweden's Million Stylez.
The six for Kris Kemist at Reality Shock include Reading's Deadly Hunta, Chieftain Joseph, Italian rapper/singer Miss Fritty and an Errol Dunkley/Daddy Freddy combination.
Calcott describes the results as "No BBQ reggae" in reference to the commercial, "sunshine reggae" styles prevalent in New Zealand.
You've Been Bad offers musical chastisement as a digital album out at the end of May and on 12" in June.