For the 15th year in a row, Jose Elias and local non-profit organization, Community Arts and Culture will be putting on the annual Afro Roots World Music Festival in Miami, Florida on August 3rd.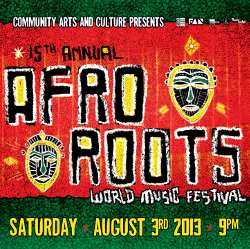 The line-up is predominantly Latin flavoured but there will also be many African artists taking part such as Ibrahima Dioubate and Fatala an ensemble started by Ibrahima Dioubate a renowned balafonist from the country of Guinea whose family linage of balafonist goes back five hundred years when they were musicians for the Royal Court. Dioubate is currently working with guitarist and producer Jose Elias, on an album that fuses the traditions of Guinean Folk music with modern instrumental components.
Also there is an appearance from Venus Rising, a West African inspired, multi-ethnic, female drum and dance troupe dedicated to creating works that uplift and inspire, C.K Ladzekpo a performer, choreographer and composer who is the director of the African music program at the University of California and a member of a famous family of African musicians and dancers who traditionally serve as lead drummers and composers among the Anlo-Ewe people of south-eastern Ghana in West Africa and the distinguished Afro Polyphonic World Orchestra (APOW).
On the reggae front there will be performances from Itawe, a Colombian who has been living in the US since the age of 14 and is the front man of Latin Band Miami New Times but is now to release a reggae based solo debut filled with songs of revolution, freedom and love entitled "The Solution" plus local heroes DJ's Lance-O and Kulcha Shok who have become synonymous with reggae music in South Beach over the past few years thanks to their club nights.