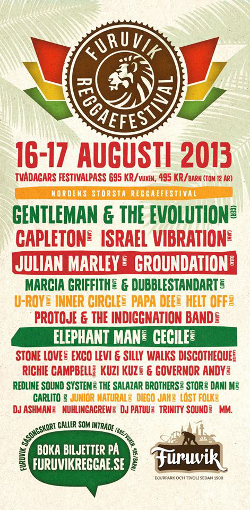 In 2001 Swedish promoter Yared Tekeste founded Uppsala Reggae Festival in Uppsala, Sweden. For ten years it was the largest reggae festival in northern Europe with loads of notable artists performing.
In 2012 the festival changed both name and location. Today it's called Furuvik Reggae Festival and takes place at an amusement part in Gävle, Sweden, roughly two hours north of Stockholm.
This year's line-up is nothing to be ashamed about. Far from it. The set list includes performances from a wide range of artists from Jamaica, Sweden and the U.S., including Capleton, Ce'cile, Elephant Man, Gentleman, Groundation, Inner Circle, Israel Vibration, Julian Marley, Marcia Griffiths, Protoje, U Roy and Papa Dee.
Furuvik Reggae Festival takes place August 16-17 and tickets are available now.