Jamaica is a violent and dangerous country. According to Jamaica Observer statistics indicate that 860 people have been murdered so far this year, compared to 820 over the similar period 2012.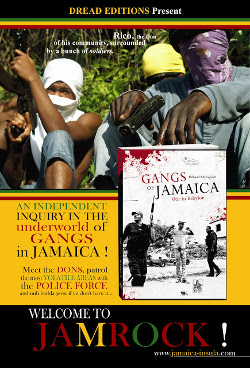 This is something Thibault Ehrengardt knows very well. He's a French freelance journalist, former chief editor of the now defunct French reggae magazine Natty Dread and author of several books about Jamaica. His latest project is a book on the gangs of Jamaica.
A few years after the downfall of Christopher "Dudus" Coke, probably the most important godfather of the island, Thibault Ehrengardt went to Jamaica to patrol the most volatile areas with the police and to meet several gang leaders with the aim to understand the general situation on the island.
He witnessed organized crime, ruthless politicians and gruesome warlords.
Gangs of Jamaica was originally issued only in French but is now also available in English as a e-book.