North Spanish all-analogue reggae producer Roberto Sanchez has cut showcase albums by Jamaican veteran singers Earl Zero and Milton Henry. Now he has teamed up for a vocal and dub throwback set with another Earl, JA-born, UK-based elder, Earl Sixteen.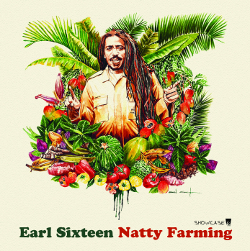 Sixteen got his name because he was a talent show winning singer in his teens. He studied under Boris Gardner and voiced for a roll-call of important producers including Derrick Harriott, Joe Gibbs, Lee Scratch Perry, Coxsone Dodd and many more.
Natty Farming revisits his days recording for Linval Thompson at Channel One. The rhythms were laid at Sanchez' Lone Ark studio in Santander and constructed on vintage drum patterns by the Roots Radics' Style Scott – loaned from Thompson's archives. Over these, Sixteen has written three original songs, such as the pastoral title track, and reinterpreted material by the Melodians, Sly Stone and even the indie rock group Blur.
The cover bears striking artwork by Sil Cunningham who recently illustrated Iroko Records' reissue of Freddie McKay's Tribal Inna Yard and the forthcoming album by Pressure on I Grade Records.
Natty Farming is out on April 15th on CD and vinyl LP.